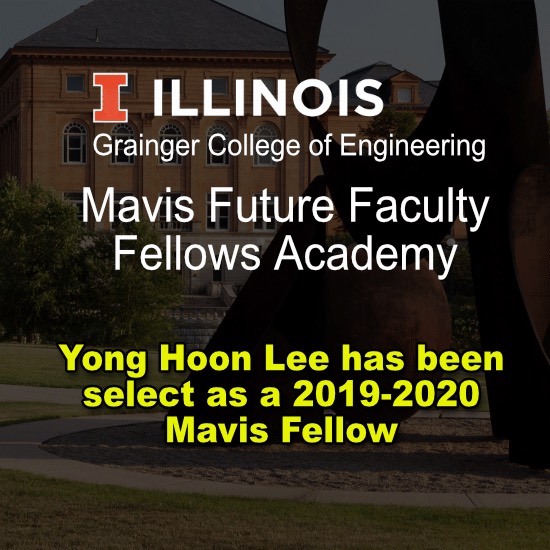 Information
Receipient: Yong Hoon Lee
Award Period: August 2019 – May 2020
Award Granted By: Grainger College of Engineering, University of Illinois at Urbana-Champaign
Official Website: https://publish.illinois.edu/engr-mavis/
What is Mavis Future Faculty Fellowship Program?
The Mavis Future Faculty Fellows (MF3) Academy is a one-year program for senior PhD students to facilitate the training of the next generation of engineering faculty in research, teaching, and mentoring.
During the fellowship period of one year, fellows participate in a series of workshops, seminars, and activities that cover various aspects of an academic career. The three main components to the MF3 Academy are research, teaching and mentoring. All fellows will become proficient in these core areas through various activities and events. The activities in each area will be designed to enhance the graduate students experiences in their departments. In addition, the fellows will complete a capstone experience that will enhance their professional development in a self-directed area.
This program is made possible by a generous bequest of Frederic T. and Edith F. Mavis. Dr. Mavis received B.S., M.S., and Ph.D. degrees in civil engineering from the University of Illinois. He was a professor of civil engineering at several universities and was dean of engineering at the University of Maryland from 1957 until 1967. He died in 1983. The endowment directs and it was the donors wishes that the fund shall be used for doctoral students in the College of Engineering that desire to become engineering faculty.